You cannot select more than 25 topics
Topics must start with a letter or number, can include dashes ('-') and can be up to 35 characters long.
README.md
MediathekView
Das Programm MediathekView durchsucht die Mediatheken verschiedener überwiegend deutschsprachiger öffentlich-rechtlicher Sender, lädt Beiträge daraus herunter oder spielt diese ab (mit VLC Media Player oder mit einem Programm eigener Wahl). Es können auch Sendereihen/Serien abonniert werden.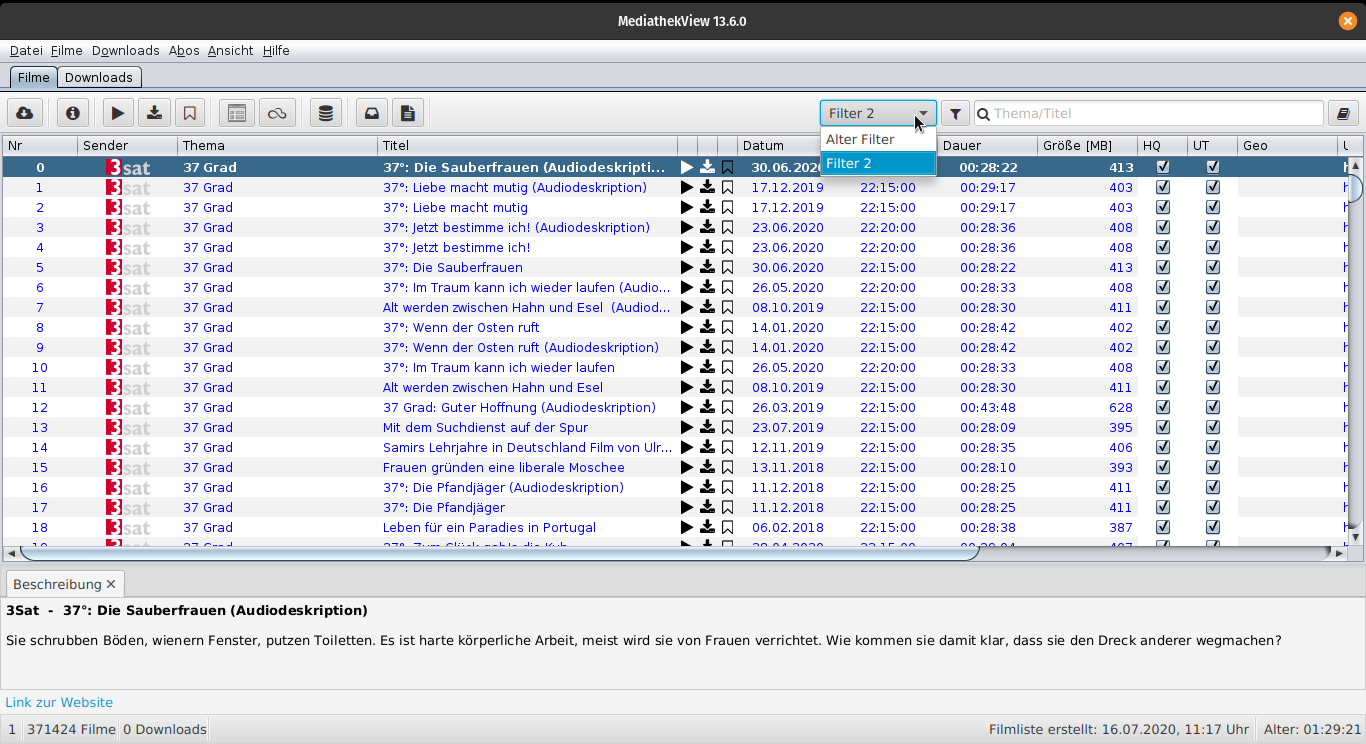 Sender
Derzeit werden die Mediatheken der folgenden Sender unterstützt:
ARD (Das Erste)

alpha
BR (Bayerischer Rundfunk)
HR (Hessischer Rundfunk)
MDR (Mitteldeutscher Rundfunk)
NDR (Norddeutscher Rundfunk)
RBB (Rundfunk Berlin-Brandenburg)
rbtv (radiobremen)
SR (Saarländischer Rundfunk)
SWR (Südwestrundfunk)
WDR (Westdeutscher Rundfunk)

ZDF (Zweites Deutsches Fernsehen)
Gemeinschaftsprogramme von ARD und ZDF

3Sat
Arte (deutsch, englisch, französisch, spanisch, italienisch und polnisch)
Funk
Kika (Kinderkanal von ARD und ZDF)
Phoenix

DW TV (Deutsche Welle)
ORF (Österreichischer Rundfunk)
SRF (Schweizer Rundfunk) inkl. Podcasts
Installation
MediathekView wird in mehreren Paketen auf der Webseite angeboten. , darunter Installer für Windows & Linux. Zusätzlich zu den Installern sind auch Portable Varianten vorhanden z.B. als Zip oder tar.gz. Diese Pakete beinhalten bereits die benötigte Java Version, Java muss also nicht installiert sein.
Für RPM-basierte Linux Pakete steht auch ein GPG Key zur Verfügung, mit dem das RPM-Pakete anhand seiner Signatur verifiziert werden kann. Dieser kann mit diesem Kommando importiert werden:
sudo rpm --import https://download.mediathekview.de/stabil/MediathekView-rpm-signature-2021.pub

macOS: Für macOS werden fertige DMG-Images sowohl für Intel als auch Apple Silicon Rechner angeboten.
Bedienung
Siehe Anleitung
Support
Bei Fragen, Hilfe, gesuchten Sendungen oder sonstigen bitte das Forum verwenden.
Für Bugs siehe Contribution Guide.
See / Siehe Contribution Guide
Lizenz / License
Links
Credits